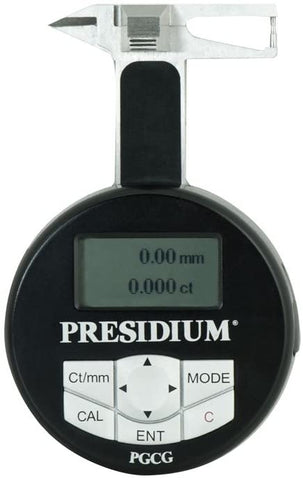 Presidium Digital Computer LCD Screen Gem Gemstone Diamond Calculating Gauge
PGCG
PRESIDIUM GEM COMPUTER GAUGE PGCG - BRAND NEW

Best Electronic Gemstone Gauge in the World just became much better - Easy digital readout, computes weight directly from the measurements!
The Presidium Gem Computer Gauge (PGCG) has been developed based on the existing Presidium Electronic Gemstone Gauge (PEGG) with additional features to perform more functions.
The new Presidium Gem Computer Gauge has a built-in computer program to estimate the weight of a wide variety of loose and mounted stones with high precision, consistency, speed, and ease. The gauge computes weight directly from the measurements taken or from data entered on its keypad. It also features a direct reading of carats for brilliant cut diamonds. It reads in mm with 0.01mm accuracy. It automatically shuts off when idle for 10 minutes and has a USB interface for connection to your PC.
The Presidium Gem Computer Gauge works with diamonds and virtually all gemstones used in jewelry today in many different shapes, such as round, oval, emerald, marquise, heart, pear, cushion, rectangular or cabochon.
The additional features include:
Specific Gravity (S.G.) dictionary of common stones
Assistance in calculating prices of gemstones
Estimate weight of gemstones
as Gemstone Estimator using S.G. values
CD with more gemstone values to extend built-in dictionary of values
USB interface to PC/laptop
Specifications:
measuring range: 0.00mm to 25.00mm or 0.000ct to 57.343ct
auto shut off after 10 minutes of inactivity
0.01mm accuracy
recommended battery: CR 2450 3V or equivalent
battery life: about 80 hours of continuous use
Package includes:
Gauge
CR 2450 3v battery
Jewelry attachment (for measuring mounted stones)
User Manual
Carton and Protective Box
USB cable
CD Software
The Presidium Gem Computer Gauge (PGCG) comes with 12 month manufacturer's warranty.
---
We Also Recommend
---